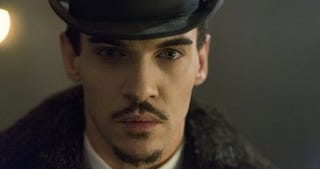 Looks like television scriptwriters have been hitting the books: this fall, plenty of new dramas and comedies on both network and cable have literary roots. Network executives are notoriously risk-averse, and a new series is an expensive gamble, so it's no surprise that some programming heads are looking to the classics in the hope that a story that has enchanted readers for centuries will also attract fickle TV audiences in 2013′s roundup of fall shows. Other writers and producers are mining more recent novels and memoirs to refresh their schedules. Here we round up ten of the most promising.
DRAMA
Given the all-consuming presence of vampires in pop culture over the past few years, we can't believe it's taken this long for the original bloodsucker to find his way to the small screen. NBC is correcting that with its lavish, gothic "Dracula," which reimagines Bram Stoker's classic with the appropriately hollow-cheeked Jonathan Rhys Meyers ("The Tudors")in the lead. Meyers plays a mysterious American entrepreneur in Victorian London (why ishe so pale — and so seductive?) who is really there to get revenge on the enemies who killed his wife. (Fridays at 10/9c, premiering October 25)
Dracula is a half-season (ten-episode) show, and will be replaced midseason by the similarly truncated "Crossbones." Set in 1715, this swashbuckling series stars John Malkovich as the dread pirate Blackbeard, ruler of a ragtag outlaw nation on the Bahamian island of New Providence. Based on Colin Woodward's nonfiction book The Republic of Pirates, this is the story of Blackbeard's efforts to hold out against the various forces — commercial, political, and criminal — that seek to destroy him and his rogues' paradise. (Midseason)
Related: 6 Movie Monsters Ranked by Sense of Humor
Not content to stay wholly in the past, Fox is taking a bet on a time-traveling adaptation of Washington Irving's classic spine-tingler with "Sleepy Hollow." In the new show, Tom Mison ("One Day") stars as Ichabod Crane, one of General George Washington's top soldiers, who beheads a masked man in battle, only to wake up in a modern-day Westchester village where police detective Abbie Mills (Nicole Beharie) is battling a mysterious Headless Horseman. Flashbacks, romance, mystery, and plenty of fish-out-of-water jokes may be enough to carry the show beyond its wild premise. (Mondays at 9/8c, premiering Sept. 16)
A spinoff of its successful fairy-tale drama "Once Upon a Time," ABC's riff on Lewis Carroll's classic Alice's Adventures in Wonderland — "Once Upon a Time in Wonderland" — is an arch fantasy with a romantic heart. Beautiful Victorian teenager Alice (Sophie Lowe) wakes up telling wild tales about an invisible cat and a smoking caterpillar. Just as her doctors are about to cure her with a drug that will make her forget everything, the Knave of Hearts (Michael Socha) and a CGI white rabbit (John Lithgow) pop up to pull her back down the rabbit hole. (Thursdays at 8/9c, premiering October 10.)
Related: Telluride 2013 to Highlight DeLillo, Ondaatje, Dickens, Hinton and More
Former "Grey's Anatomy" doc Isaiah Washington is set to take the lead in the CW's midseason drama "The 100," based on the futuristic YA novel by Kass Morgan. The story takes place almost a century after a nuclear war has all but wiped out life on earth, except for a colony of survivors orbiting the wrecked planet in a spaceship. The leaders decide to check out the possibility of re-inhabiting earth by sending 100 juvenile delinquents — this being the CW, an improbably telegenic and well-scrubbed crew — down to investigate.(Midseason)
Jason Mott's novel The Returned isn't even out yet, but is already the basis for an upcoming ABC drama, "Resurrection." An eight-year-old boy wakes up in a field in China, and with the help of an immigration agent (Omar Epps, "House") makes his way back to his hometown of Arcadia, Missouri, and to his parents, a couple who lost their son — in 1966. The impossible reappearance of the un-aged child, and the implications of his return, present a tangled mystery for his family and community. (Midseason)
Related: Eddie Huang's 'Fresh Off the Boat' Will Become ABC Sitcom
The prolific writer and director Guillermo del Toro ("Pacific Rim," "The Hobbit," "Hellboy") is set to adapt his own vampire trilogy, The Strain, for FX this fall, along with co-author Chuck Hogan. Del Toro's vampires are a far cry from Twilight's sexy, misunderstood antiheroes; instead, the vampire's bite is imagined as a gruesome contagion. "The Strain" begins when Dr. Ephraim Goodweather (Corey Stoll, "House of Cards"), head of a secret Center for Disease Control task force, is called in to investigate the horrifying scene inside a stalled Boeing 777 at JFK airport. Assisted by an elderly Holocaust survivor, the doctor quickly finds himself battling a virus that threatens the city — and soon, the world. (Midseason)
COMEDY
Plenty of lighter stories coming this season also look to books for inspiration. Fox's comedy "Surviving Jack" is based on Justin Halpern's memoir I Suck At Girls, and stars Christopher Meloni ("Law and Order: SVU," "True Blood") as a distant dad who suddenly has to take the reins at home when his wife goes back to school. One of several retro-flavored comedies debuting this fall, the show is set in the nineties, making its dad-stays-home premise a bit more unusual. Meloni's Jack is ex-military and an oncologist, so his emotional and physical toughness should equip him well to face the challenges of raising his teenagers, son Frankie and daughter Rachel — but of course, it wouldn't be a comedy if that were true. (Midseason)
This article has been excerpted. For the full article, click here.
Joanna Scutts is a freelance writer based in Astoria, New York. She has written book reviews, essays, and author profiles for several publications, including The Washington Post, The Nation, The Wall Street Journal, Los Angeles Review of Books, Kirkus Reviews, The Rumpus, and Open Letters Monthly. She holds a PhD in English and Comparative Literature from Columbia University and teaches writing at NYU's Gallatin School.
Word and Film is dedicated to keeping a literary eye on what's entertaining the world on screens both big and small.