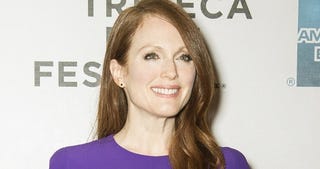 Julianne Moore was probably not the likeliest guest to grace the Javitz Center stage at the seventh annual New York Comic Con, and that's reflected in the icy welcome the fifty-two-year-old received from the costumed geekerati. But Comic Con and the trailer for her latest film "Carrie," for which she's banging the drum, acted as more than just a way to shed that shroud of Moore-in, her trademarked filmic mask of anguish. She's been prepping the world for the line of cougars and villains she's been trotting out since this year's SAG, Emmy, and Golden Globe trifecta for portraying a woman many see as the ultimate cougar villain in Jay Roach's "Game Change." We had a quick chat with Moore in New York and she revealed ten things we never knew about her.
She believes in telekinesis (sort of)
"I believe in imagination," she says of otherworldly powers. "Emotions are big and they govern our lives. We try to explain feelings by talking about darkness and super powers and telekinesis and fortune telling and all of those things are really metaphors for what we feel, so in that sense, I do believe in telekinesis."
She loved "Carrie" when she was fourteen, but didn't remember
"My character became involved in a religious sect," she says of the book, "then became more religious than the sect so she broke off and married a man and they formed their own church. They would preach to each other and then when she became pregnant, she thought she had cancer. She thought she was dying. And then her husband died and she gave birth to Carrie alone."
Related: Women on the Verge: From 'Side Effects' to 'Girl, Interrupted' to 'Carrie'
She has a library that contains Stephen King's collected works
"I've always been a huge fan," she says of Stephen King. "I think he's a tremendous writer. He's a modern-day Dickens and a fantastically gifted storyteller."
She doesn't nail all of her auditions
"I was dull," she says of her formative years. "I was pretty ordinary. I was a very good student. I was a hard worker and in the drama club. I always had a best girlfriend, but I just recently told my daughter that I tried out for cheerleading and the drill team and didn't make either. She was like, 'What? That is so horrible, mommy!'"
Related: Julianne Moore to Go Evil in Mockingjay? And 7 Other Great YA Villainesses
She doesn't find the piecemeal life of an actor all that new
"I traveled a lot," she says of her Army brat youth. "I went to two different high schools and two different junior highs, so I really remember the feeling of being outside and not having friends – of being brand-new and people not talking to me – and I think that's an important thing for us all to remember."
She finds Sarah Palin and Margret White dissimilar
"It's very different," she says of the comparison between working and life. "There's a tremendous amount of freedom when you're creating a character. You have artistic license to make whatever you want. If you are depicting someone who is alive, you have a responsibility to be as accurate in your behaviors and language and physicality as possible."
This article has been excerpted. For the full read, head over to WordandFilm.com.
Tony Phillips is a freelance journalist living in New York City. After completing a prestigious Goldring Fellowship at Syracuse's S.I. Newhouse School of Public Communications in the summer of 2009, he returned to Manhattan and kicked off the summer of 2010 by publishing his controversial "Jersey Shore" cover story in The Village Voice. He spent the summer of 2011 on the Mediterranean, on assignment writing a travel feature that explored Spain's sunny Costa Dorada. Tony is currently shopping his first book proposal.
Word and Film is dedicated to keeping a literary eye on what's entertaining the world on screens both big and small.