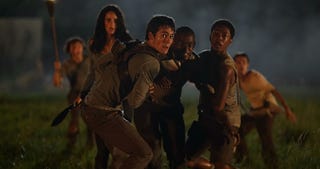 Editor's Note: This fall, James Dashner's dystopian novel of a place called The Glade, in which a young man named Thomas wakes up in a world surrounded by an unsolvable maze, will land in theaters. Dashner's story spans three books – The Maze Runner, The Scorch Trials, and The Death Cure, as well as its prequel, The Kill Order, now available in paperback. Wes Ball, whose resume is steeped in Star Trek, is director. Will Poulter, Dylan O'Brien, and Patricia Clarkson are starring in the film, for which Dashner wrote the screenplay alongside Grant Pierce Myers, T. S. Nowlin, and Noah Oppenheim. Word & Film asked Dashner to share five things that surprised him about the filmmaking process. Here's what he said.
1. How many drafts of the script they made before filming began. The final one is nothing like the first one.
2. How many people work on the film. You know, I'd sat through the credits of countless movies before, watching as all those names scroll up the dark screen. But seeing it in person blew me away. And it just kept bringing tears to my eyes. All those people, making MY BOOK into a movie! I still can't believe it.
3. The vision of director Wes Ball. I had heard good things about the guy, and he had a lot of buzz going around Hollywood. But he surpassed even my greatest expectations. He is a true visionary, and he did things with this movie that I don't think anyone else could have.
4. The Grievers. I'll just say it: They are way better than the ones in the book! Haha. I mean it. Wes and his team totally captured the spirit of the creatures, and all the parts are there, but a thousand times cooler. They are awesome and terrifying. I really think people are going to be talking about the Grievers a lot after seeing this film.
This article has been excerpted. For the full piece, head over to Word and Film.
Word and Film is dedicated to keeping a literary eye on what's entertaining the world on screens both big and small.