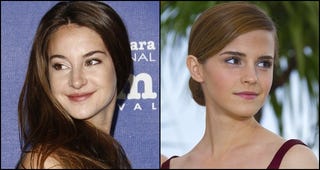 Some actors are known for always playing villains or for choosing parts that involve standing at the end of really long piers. And then there are those who have a penchant for the page, opting for roles that originated in print. Lately we've noticed that Shailene Woodley, who rose to fame playing a teen mom on "The Secret Life of the American Teenager," is one such actress. The twenty-one-year-old is currently starring in "The Spectacular Now," based on theTim Tharp novel of the same name, which opens August 2, and she's slated to star in not one but two highly anticipated upcoming YA adaptations ("The Fault in Our Stars" and "Divergent"). In fact, Shailene is so busy bringing books to life that she's starting to give our other favorite bookish young actress a run for her money — Emma Watson, the "Harry Potter" star who earlier this summer played the anti-Hermione as a fame-obsessed, Louboutins-stealing teen in "The Bling Ring."
Having won raves in their latest page-to-screen parts, both Woodley and Watson are clearly headed to the adaptation acting hall of fame. But who does it best? As we've done in the past, we're bringing you another edition of Battle of the Lit It Girl, this time in the J.V. league.
Round One: Coming-of-Age Story
Emma: "The Perks of Being a Wallflower," the story of an introverted high school freshman who finds confidence and companionship in two upperclassmen nonconformists, had a lot to live up to when it hit theaters last year. The 1999 young adult novel on which it was based has attained Catcher in the Rye-level status for Millennials, but with the book's author Stephen Chbosky on board as screenwriter and director, the adaptation won over purists for staying true to its source material. Most of the acting superlatives went to Logan Lerman as Charlie, the shy protagonist, and to Ezra Miller, who stole scenes as Patrick, a pithy, charismatic gay teen. But Watson also raked in praise for "shed[ding] the memory of a decade playing Hermione in the Harry Potter series with an about-face as a flirtatious but insecure free spirit."
Shailene: "The Spectacular Now," directed by James Ponsoldt and adapted by "(500) Days of Summer" scribes Scott Neustadter and Michael H. Weber, has been earning comparisons to "Perks" since it premiered as the darling of Sundance earlier this year. And along the way it's been bringing in heaps of praise for its two young stars, Miles Teller, who plays Sutter Keely, a hard-partying charmer of a high school senior, and Woodley, as Aimee Finicky, the gentle, studious wallflower who slowly wins his affections. The pair won a Special Jury Prize in acting at Sundance for showing "rare honesty, naturalism and transparency and whose performances brought up the best in each other."
Round goes to: Though Watson achieved the near-impossible in making us accept her as someone other than the great Hermione Granger, Woodley, whose turn in "Spectacular Now" has been described as "entirely terrific" and "frighteningly vulnerable," is a true knockout. Winner: Woodley
Round Two: Good Girl Gone Bad
Emma: Actress Rachel Bilson may not have been amused to see the celebrity-obsessed teens who broke into her Los Angeles mansion receive the big-screen treatment in "The Bling Ring," but in Sofia Coppola's adaptation of a Vanity Fair article about a group of spoiled adolescents who rob starlets, Watson wowed as Nicki, the magnetic, materialistic center of the group. Time Out called her performance "sharp, knowing, smart" and Richard Roeperdeemed it "comedic gold." Oh, and there was a lot of excitement about watching Hermione gone wild as Watson showed off her moves on a stripper pole.
Shailene: Woodley earned a Golden Globe nomination for her first feature film role in "The Descendants," the Alexander Payne-helmed comedy-drama based on the novel by Kaui Hart Hemmings. The part of Alex, an angry, rebellious teenager dealing with her mother's infidelity and subsequent death, was a huge departure from her previously best-known turn as Amy Juergens on "Secret Life," showing Woodley's surprising range as she moved from raging adolescent snarkiness to intense emotional fragility (that crying scene in the pool) and back again. At the time, Payne, who was looking for a young Debra Winger type to fill the role, was prescient when he said of Woodley, "She is going places."
Round goes to: Both actresses defied expectations, giving layered, spunky performances that not only transcended the roles that made them famous, but also gave us a taste of great things to come. Winner: A draw
For rounds three and four, and our J.V. Adaptation It Girl champion head over to WordandFilm.com.
Katie Robbins is a journalist and screenwriter based in Los Angeles. Her work has appeared in O Magazine, Saveur, Psychology Today, the Atlantic online, and LA Weekly, among others. As a documentary and television news producer, she has covered a range of public policy issues for outlets including PBS NewsHour, ABC News, and Discovery. For more from Katie Robbins, head over to WordandFilm.com.
Word and Film is dedicated to keeping a literary eye on what's entertaining the world on screens both big and small.