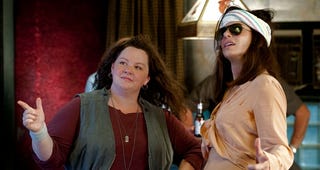 "The Heat," the new buddy cop comedy, directed by "Bridesmaids" helmer Paul Feig, starring Sandra Bullock and Melissa McCarthy as a pair of mismatched crime solvers, has been generating a lot of, well, heat. From speculation about whether it will live up to Feig's last outing to recent controversy surrounding what appears to be an airbrushed McCarthy in the pic's UK poster, it's one of the most talked-about films this summer.
But much of the buzz stems from the fact that the film features two female headliners, a rarity in the traditionally testosterone-fueled summer blockbuster season and apparently enough of a risk that Fox, the studio behind the movie, is marketing "The Heat" as"gender neutral," trying to attract male audiences with promotion on ESPN and trailers placed before action flicks like "A Good Day to Die Hard."
And while the notion that men need coaxing to check out a female-driven comedy has itself come under fire, the fact is that while there are hordes of boy buddy movies about a pair of partners engaged in bro business, movies about a couple of women (particularly those who aren't best friends talking — or fighting — about marriage/men/sex) are few and far between.
So in honor of the June 28 release of "The Heat," we take a look at some of the best female partnerships of the small and silver screens. For the purpose of this list, we stuck with pairs (or trios) of coworkers or comrades, avoiding pairings that were more traditional BFFs, so there are no Golden Girls or Ya-Yas or Thelma and Louise, but even without those perennial favorites, we're still smitten with these women.
"Cagney & Lacey"
The grandma of the female buddy genre, this acclaimed '80s cop drama was first conceived a decade earlier in 1974 when executive producer Barney Rosenzweig read From Reverence to Rape: The Treatment of Women in the Movies on the recommendation of his then girlfriend, Barbara Corday. And so in 1981, "Cagney & Lacey," written by Corday and Barbara Avedon, hit the small screen, first as a television movie and then as well-received series, starring Tyne Daly as working mom Detective Mary Beth Lacey and Sharon Gless as single, driven career woman Detective Christine Cagney. Flagging ratings almost caused the show to be canceled, but support from the National Organization of Women and Gloria Steinem kept C&L alive. And with its treatment of then taboo issues like alcoholism and breast cancer, plus an honest exploration of the concerns of working women, it went on to win raves, and a whole slew of Emmys for its two leads.
Related: 10 of the Best On-Screen Trios in Movie History
"9-to-5″
Boasting one of the best movie theme songs ever (thanks Dolly), this 1980 workplace comedy stars Jane Fonda, Lily Tomlin, and Parton (in her big-screen debut) as three working women who team up to take down (read kidnap and bound and gag) their "sexist, egotistical, lying, hypocritical, bigot" boss (played with unctuous smugness by Dabney Coleman). Though in his tepid review of the film, Vincent Canby snidely referred to the trio as "three liberated Nancy Drews," we think it's a fitting — and flattering — descriptor. While we're not espousing boss abduction, it's still galvanizing to watch the women collaborating to make the corporate world a little more worker friendly, fighting sexual harassment and discrimination, and pushing for changes like onsite childcare and flexible work hours that are still relevant today.
"The Good Wife"
So, over the years, the relationship between Alicia and Kalinda has been a little, well, complicated. More on-again-off-again than Ross and Rachel, the attorney and firm investigator (played by Julianna Margulies and Archie Panjabi respectively) started as skeptical colleagues, became close confidantes, and then saw their friendship fall apart when it came out that Kalinda had (SPOILER ALERT) been one of the many paramours of Alicia's lothario husband Peter (Chris Noth). For a moment, the two pals patched things up, but in a recent interview with Huffington Post, Margulies hinted that the friendship might just be kaput for good. But for all their goofy, gabby drinks sessions and their tremendous investigative teamwork, the pair still handily makes our list.
Related: Stoners On-screen: The Problem with the Portrayal of the Pothead
"Laverne & Shirley"
Just listen to that peppy theme song. These two midcentury broads were no schlemiels or schlimazels — Laverne (Penny Marshall) and Shirley (Cindy Williams) were doing it their way, working together to make all of their dreams come true. Making the less-than-glamorous lives of two bottlecappers seem like madcap fun, the series proved that work can be pretty palatable when you're doing it beside your best friend.
Let us know who we missed, but first, click through to Word & Film to read the complete list of our favorite female partnerships.
Katie Robbins is a journalist and screenwriter based in Los Angeles. Her work has appeared in O Magazine, Saveur, Psychology Today, the Atlantic online, and LA Weekly, among others. As a documentary and television news producer, she has covered a range of public policy issues for outlets including PBS NewsHour, ABC News, and Discovery. For more from Katie Robbins, head over to WordandFilm.com.
Word and Film is dedicated to keeping a literary eye on what's entertaining the world on screens both big and small.