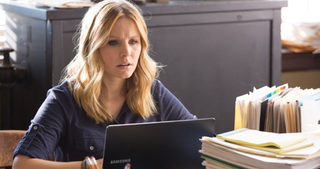 ABC may have just started airing its new series "Resurrection," but rebirth has been a staple of television almost since its inception. "Veronica Mars," a high school noir that ran for three seasons (2004-07) on UPN, is just the latest to manage an unlikely reincarnation. Kristen Bell starred in the original series as a teenaged private detective who solved crimes around her town, beginning with the murder of her best friend. When it was cancelled, the show's not insignificant fan base protested its demise, and six years later creator Rob Thomas was able to convince Warner Bros. to let him make a spin-off feature. Set nine years after the events of the series, the movie sends Veronica, now a lawyer in New York, back to her hometown of Neptune, California, to give legal advice to an old classmate now suspected of murder. Naturally, her ten-year reunion coincides with the visit, and she is thrown back into both her old circle of friends and enemies and her role as a P.I. The film, which takes advantage of the less restrictive medium, premiered at the SXSW Film Festival last weekend and hits theaters Friday, March 14. The spin-off book comes out March 25.
As noted, this sort of thing is not without precedent. Feature spin-offs of old TV shows abound, "Family Guy" was rebooted by zealous fans, "Arrested Development" got another shot with another company, "24" is getting another network run (and, potentially, a feature). Of course, "Star Trek" showed that just about anything could be repurposed: A three-season sci-fi lark later became a billion-dollar TV-and-film institution/pop culture phenomenon that is still chugging nearly fifty years after its original cancellation. These days, with so many additional channels and means of distribution, the potential for new iterations of old material is practically unlimited.
Related: So You Loved 'True Detective': 7 Books to Un-break Your Heart
So we got to thinking about some of our other favorite shows from the last twenty-five years that were never given much of a chance, and imagined new plot lines and formats for them. Here are three we'd very much like to see dusted off and given a fresh makeover (it goes without saying that James Franco, who cameos as himself in the "Mars" movie, should appear in all of them):
"Freaks and Geeks"/"Undeclared" (NBC, 1999-2000; Fox, 2001-02)
Judd Apatow's under-appreciated, single-season ensemble comedies have become legendary as the poster boys for "unrecognized genius." But now he's Judd Apatow, and he can do pretty much whatever he wants. He could pool all of the talent introduced on those series that have since blown up (Seth Rogen, Jason Segel, Franco, Jay Baruchel, Charlie Hunnam) and make an all-star feature that combines the characters from "F&G's" William McKinley High School in Michigan and "Undeclared's" University of Northeastern California after they've grown up and settled in Los Angeles (chronologically the "F&G" characters would be in their late forties and the "Undeclared" characters would be in their early thirties). Several of the characters with music or theater interests are now involved in the entertainment industry (allowing for typical meta fun), and comedy ensues when they're brought together hastily for a disaster-relief benefit organized and bankrolled by the wealthy Ken Miller (Rogen in "F&G"). Paul Feig, who created "F&G" and went on to helm "Bridesmaids" and "The Heat," could direct; John Francis Daley, the lead in "F&G" and now a screenwriter ("Horrible Bosses"), could write the script; and Feig's muse Melissa McCarthy would appear as the tasteless, bipolar movie star diva asked to headline the show.
Related: The Minds Behind The Hunger Games to Adapt Donna Tartt's The Goldfinch
"My So-Called Life" (ABC, 1994-95)
This winning drama suffered from too much realism at a time when TV was still in hock to the traditional tidy narratives it had always relied on, and thus met its demise after just one season. The all-too-common travails of mixed-up but sensible Angela Chase (Claire Danes) were just too consistently unresolved for network execs (if not for a portion of the audience that greatly valued the show's integrity). Once "Homeland" ends and Danes is free again (she's not quite thirty-five years old), it would be a natural fit to pick up with Angela as a young mother and guidance counselor at a high school full of digital-age versions of her. Each week, she balances the challenges of her married home life with the struggles of her students while working on a book about how teenaged girlhood has changed over the previous two decades, which would allow for more of her signature voiceovers. Bonus development: life gets even more complicated when old flame and single dad Jordan, played as before by newly minted Oscar winner Jared Leto, gets a job teaching at her school.
"Twin Peaks" (ABC, 1990-91)
It only took Mark Frost and David Lynch two cherry-twisting, dwarf-dancing seasons (thirty episodes total) to set the stage for every macabre, head-scratching network series that followed, from "The X-Files" to "Fringe." Their 1992 feature prequel "Twin Peaks: Fire Walk With Me" satisfied almost no one, however. So we propose an entertainment first: Given the similarity between the White Lodge-Black Lodge conceit of "Peaks" and the underlying Good-vs.-Evil mythology of "Lost" — another show that played with shifting identities, time travel, a suspect "reality" and never-ending mystery — a new spin-off hybrid series should be launched that posits that the town of Twin Peaks and the Island occupy the same temporal space, and that Agent Cooper/Bob and John Locke/Man in Black — wait for it... — are the same person!(Yes, ABC owns both shows.) The pre-existing storylines are immediately thrown into question as characters from each show (Laura-Donna-Leland, Kate-Sawyer-Jack) are revealed to be doppelgangers. "Lost" owes a huge debt to "Peaks" (co-creator Damon Lindelof has frequently acknowledged the inspiration), and this would provide the show's two enormous cult followings with such an orgy of weirdness, literary references and loopy misdirection that their feverish theorizing could break the Internets.
For more from Jay Fernandez, head to Word & Film.
Word and Film is dedicated to keeping a literary eye on what's entertaining the world on screens both big and small.
[Image: Kristen Bell in Veronica Mars/Photo © 2013 Warner Bros. Entertainment Inc. All Rights Reserved.]